EuroMelody Song Contest 05
Welcome to Armenia
Host
Host broadcaster
Yerevan
Opening act
Sirusho
"PreGomesh"
Participants
Number of entries
20
Debuting countries
Belarus
Withdrawing countries
Turkey
Vote
Voting system
Each country awarded 12, 10, 8-1 points to their 10 favourite songs
Winning song
Denmark
"I'm Not Alone"
EuroMelody Song Contest
◄4 6►
EuroMelody Song Contest 05 was the 5th edition of EuroMelody. It was held in our last winner, Armenia, or more specifically the city of Yerevan. 20 countries confirmed their participation, so we're keeping 20 as the record number of participants which we also had in EuroMelody #4. The winner of the edition was Denmark with Kate Hall's 'I'm Not Alone', closely followed by Spain. Denmark became the first country to win the contest twice.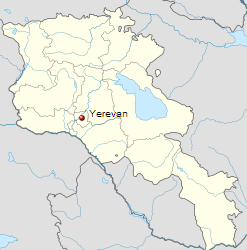 The contest will be held in the city of Yerevan, the capital and largest city in Armenia.
Participants
Edit
| Draw | Country | Artist | Title | Rank | Pts |
| --- | --- | --- | --- | --- | --- |
| 01 | Italy | Dolcenera | "Ci Vediamo A Casa" | | |
| 02 | Denmark | Kate Hall | "I'm Not Alone" | | |
| 03 | Spain | Jose Galisteo | "Beautiful Life" | | |
| 04 | Malta | Raquela | "Entertain Me" | | |
| 05 | Belarus | Alexander Rybak | "Europe's Skies" | 1st | 40 |
| 06 | Armenia | Nick Egibyan | "You Got Me High" | | |
| 07 | Norway | Irresistible ft Carlprit | "Elevator" | | |
| 08 | Ireland | Nadine Coyle | "Insatiable" | | |
| 09 | Macedonia | Pero Pandiloski | "Tvojot Grev" | | |
| 10 | Croatia | Mario Rucner Project & Ana Rucner ft Wendy Robin | "Summer, Love and Heat" | | |
| 11 | Hungary | Gigi Radics | "Daydream" | 2nd | 33 |
| 12 | Slovenia | Maja Keuc | "Ta čas" | | |
| 13 | Russia | Polina Gagarina | "Net" | 3rd | 30 |
| 14 | France | Jenifer | "Sur le fil" | | |
| 15 | Iceland | Greta Salome | "In The Silence" | | |
| 16 | Sweden | Danny Saucedo | "Amazing" | 4st | 21 |
| 17 | Finland | Chisu | "Sabotage" | | |
| 18 | Germany | R.I.O ft Nicco | "Party Shaker" | | |
| 19 | Belgium | Kato | "Suits you well" | | |
| 20 | United Kingdom | Tinie Tempah ft Eric Turner | "Written In The Stars" | 5st | 11 |